The MD Brands Inc. Pro*Lite, the most cost-effective, ultra-lightweight, and ideal universal head light for all dental/medical treatments and applications.
Pro*Lite Head Light design incorporates the first truly "hands free" on/off battery switch. Designed by a 30 year practicing dentist, the Pro*Lite Head Light System incorporates the lightest material and uses the longest battery life available in the market. As an industry innovator, the Pro*Lite System has earned a reputation for quality and affordability.
The Pro*Lite is the first and only company that offers a 45 DAY UNCONDITIONAL MONEY BACK GUARANTEE. Order today! (888) 415-9919

Ultra light weight
maximum comfort (only 4 grams)
Hands-Free Operation
minimize cross-contamination
Mobility
time saving and stress reducing
Ergonomics
reducing arm and shoulder fatigue by reducing constant adjustment of the cumbersome overhead light
Light on Demand
work efficiently to enhance quality and productivity
Cost Effective
equipment for your hygienists and assistants too = more effecient team work
Reduces Patient Anxiety
less stress
Adaptable to All Eyewear
keep your favorite loupe or eye glasses
Green Initiative
cost pennies to operate=generate less unwanted heat=less cooling bill=energy conservation
No More Overhead Light Fixture
technological advancement and elevate the quality of your service
Pays For Itself
by saving energy and increasing productivity
Long Battery Life
lasts up to 18 hours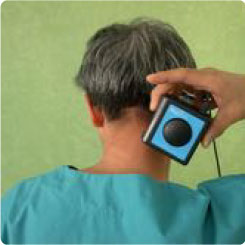 1. Start at the back neck.
4. Attach battery to your side.
7. Connect male/female plugs.
2. Place underneath the scrubs.
5. Secure battery to your pants.
8. Gently push together to confirm connection.
3. Grab battery at the hip.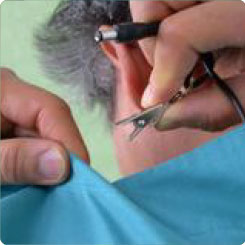 6. Clip connectors to your scrubs.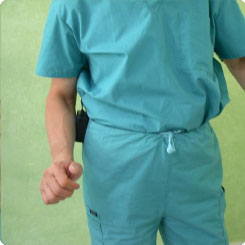 9. Test "hands-free" button to ensure proper connection.
1) Lithium ion battery pack, with easy access On/Off button, adjustable intensity control and durable metal clip
1) LED Head lamp
1) Glasses mounting adapter mounting kits
1) Orange filter with Easy Clip adapter
1) Battery charger with ready light indicator (110/220 volt)
Specifications: Intensity: 30K - 70K lux. | Lithium ion battery: lasts 8 - 20 hours | Daily charging time: 1.5 hours